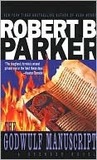 The Godwulf Manuscript by Robert B. Parker
My rating: 4 of 5 stars
This was actually a reread, having read all the Spenser novels. Shows signs of being a first novel and the Spenser here is not quite the Spenser of the later books, but the elements are here. It is worth reading and enjoying either as a first-time reader or coming back to it again.